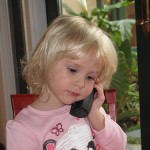 Many parents have bumped into the question of whether they should allow their children to have cell phones.  The allure of "always having a way to reach them" tantalizes many parents into adding a line for $9.99 and unlocks a host of new issues to handle.  Data, texting, the newest cell phone, the fact that the fruit-based electronic company keeps introducing a new device with a bigger number before the GS leaving us to wonder what it really does different from our inferior model number.  But all the time wishing we had that new phone.
Even this evening I watched many of the youth at our church with Apple 4GS's leaving me to wonder "man, what do their parents do." I noticed almost an immediate disdain for these seemingly rambunctious youngsters having this golden bar of iGoodness in their hands.  I love my 3GS and have decided that it is going to service me for a long time before I even think about upgrading.
But what interested me was this upset feeling at these youth having high-dollar phones.  My thoughts were "so what? What does it matter that they have these phones.  Their parents will have to pay any expenses regardless."  Then I began to wonder, "but what if one of these kiddo's are truly responsible to handle that phone?  Would my over-generalization actually inhibit perfectly capable kids?"  My answer was probably.
So what are the answers.  What age is old enough for a cell phone and to have a Facebook account.  What is too long to play on video games and should I deny my kid access to any and all tech devices.
The answers to these questions and more are discussed and answered on Episode 83 Techno-Kids and Paul McGuire from AffluentStudent.com.