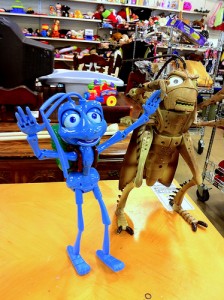 Photo courtesy of kennethkonica
One thing that is missing from a majority of parents today is the art of passing down our lessons learned, our information, and our mistakes to our children.  As a modern-day survivalist  I value preparing my family and myself for bad situations whether it be a fire (very prevalent in our part of Texas), and earthquake, a flood, a riot, or governmental collapse.
One way I was able to pass some of these ideologies on to my kiddos came when I told them of the grasshopper and the ant.
The story goes that an ant was busy collecting food for the upcoming winter when a grasshopper came and began to ridicule the ant noting "ant, there is plenty of food, plenty of water, the sun is nice, why don't you take a break and enjoy yourself."  The ant then replied "grasshopper, the winter is coming and we must take time to be prepared and harvest what we have plenty of for when there isn't much."  The grasshopper laughed and went on having fun, eating, and enjoying himself.

Months later this grasshopper again noticed this same ant and stated "you are still working ant?!  Why are you working so hard.  Look around you!  There is plenty of food and water!  Relax!"  The ant again replied "I've told you the winter is coming and I must be prepared for me and my family.  But remember this, when the winter comes, do not come to us for help since you have had plenty of time to prepare for this and we will only have enough for me and my family."  The grasshopper again laughed and left.

Eventually the winter set in cold and hard killing the abundant plant life and freezing the water that was there.  The grasshopper then remembered that the ant had stored up food and he coldly made his way to the ants home.  When he asked for food the ants were deep in their home and could not hear him and he died.
A few days later I was treating some tap water with a solution that allows me to store it for long periods of time and it still be safe to drink.  My eldest, Anna, walked up and asked me what I was doing.  To allow her the opportunity to problem solve I asked "what does it look like I'm doing?"  She remarked "putting water in bottles.  I replied "very good Anna!"  She then proceeded to ask why I was filling the bottles.  She exuberantly replied "....oh! Oh!  Cause your an ant!!"
Now, I'm not trying to push prepper mindsets on you, but instead I want you to see what happened.  I taught my daugther a life-lesson through a story she could easily understand and she was then able to later apply it in the situation I was in.
As parents we need to be talking to our kids about our beliefs about but not limited to:
sex
drugs
love
romance
cutting
burning
money
anger
kindness
And this is only a very small list of things to talk to them about.  So remember, talk to your kids about your failures, your successes, and what you wish you would have known as a kid.  That is how a society gains strength.  Remember, it's all about the relationship!